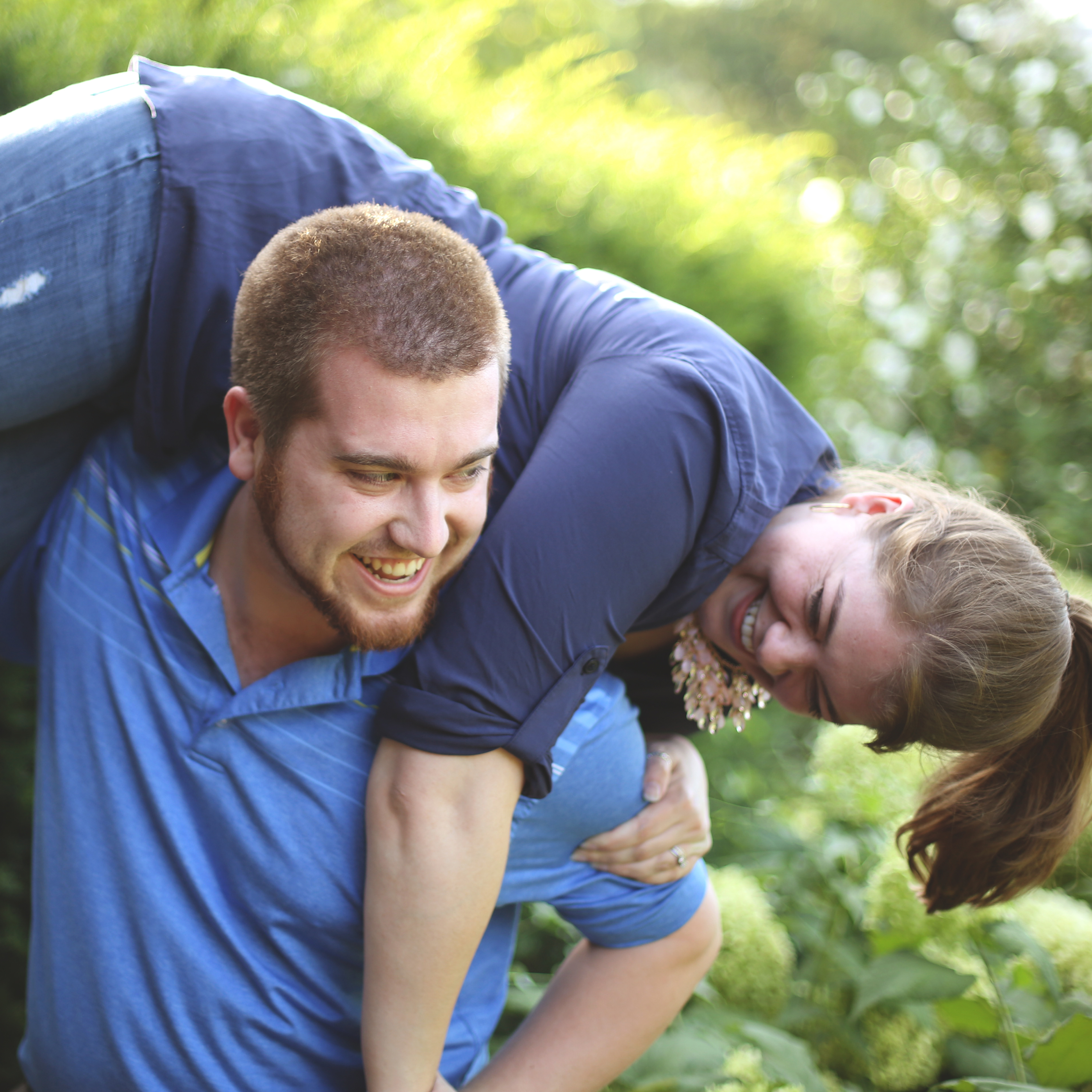 Today is our fifth anniversary!
It's hard to believe that time has flown by like it has. In some ways it feels like we've always been together, but then other times our wedding feels like it was only a little while ago. I guess this is to be expected, but it still boggles my mind. While Matt can be a bit of a goof and I can be a little too structured, we balance each other out and have been good for each other.
I guess today is one of the best times time to share our own love story. So grab your popcorn and get ready to go "Aww…" (if you're a sucker for love stories like me, that is).
We met in college, but didn't really take notice of each other. We were both Resident Assistants in two of the university's dorms. Among other things, the RAs would help with various housing events and with campus events. We worked an event together, but didn't really take note of who the other was until several months later when we had a brief conversation at a housing event.
The summer came and went and we got back to campus and immediately went into planning mode for a campus event. I (Katelyn) was a co-chair and Matt was one of the leaders for a portion of the event. As we worked together, we learned to respect each other and to enjoy spending time together. We hung out a bit, but waited until after the event to pursue anything further.
At this point I should admit that I'd only had one "boyfriend" and could barely say that, while Matt had never dated anyone. He was super nervous (I was too, but also super excited). He asked me to go on a walk. Since he was nervous it turned into a pretty long walk around our small campus. Eventually, he did ask if we could date and I of course said yes. We were different personalities, but a lot of our beliefs about life lined up perfectly. Still, it surprised several people.
That was my senior year. Matt had another year+ to go. I started grad school about three hours away so we did the long-distance thing. That wasn't fun and things weren't working out well with finding a job where I was. When I found a job, it was back in my hometown of Waco and just under an hour from Matt. So I switched to an online MBA program and worked. A little over three years after we started dating, Matt had graduated and found a job. We were still about 30-45 minutes apart with very different schedules, but we made it work.
I knew Matt had visited my parents (three hours away) and I suspected that it was related to our planned date that weekend. So I dressed up cute and giggled with my roommate before Matt picked me up. We went out to eat and Matt said the sweetest things and surprised me with dessert. The setting wasn't particularly romantic, but he was so I thought "this may be it"…
And then we left the restaurant.
We went to the movie theater, and I thought about all the fun proposals I'd seen on YouTube about graphic design majors (like Matt) popping the question during the previews. Maybe this would be it.
It wasn't. And we were so distracted with our own thoughts that we can barely remember what movie we saw that night.
The movie ends and we head out to the parking lot. He's still been the perfect gentleman with opening doors, holding my hand, etc. He hems and haws at the car a bit and I start to get my hopes up again.
Then he says, "I guess I should take you home."
I muttered something and was kinda deflated. We started heading back to my place. Then we passed the exit. When I pointed it out, he just said "I know". He wouldn't tell me where we were going so I settled in for the drive. Like the movie, I have no clue what happened for the next 30 minutes of time. Maybe we talked. I probably made random guesses about where we were going, some real and others absurd. Either way, we turned off the highway and went to our Alma Mater, the University of Mary Hardin-Baylor.
He parked and asked me to go on a walk with him. (Can you see where this is going?) We walked a few feet and then he asked, "remember what happened here?" We were at the spot where our relationship started. Once I guessed right, we walked a little further. He stopped again with the same question. We kept walking around campus remembering all the firsts: where he learned to dance so he could take me to a school formal, where he asked to kiss me, where we watched movies in the quad past midnight with friends, etc. We walked, talked and laughed. I could feel the moment building up…and we were getting closer to "the tree".
It's a gorgeous old tree by a pond. The limbs go in a lot of different directions and some even come down to the ground. It makes a really pretty alcove in the middle of all the limbs. And we were walking right to it. One step. Two steps. I'm pretty sure I know where to go, but then I feel a tug on my hand.
And we begin walking past the tree. I'm really surprised and not fully grasping that we're leaving the proposal tree.
Now I should explain that there are varying perceptions of this tree. Being a girl and living in the dorm closest to the tree, I remember it as "the proposal tree". The girls in my dorm had seen many guys propose under this beautiful tree, I'd even helped arrange one of those proposals. However, Matt, being a guy and hearing other stories, knew the tree for other things like the "drinking tree" and other stuff our small university would not have approved of.
So we walk past the tree…and stop at a pretty lamppost outside my old dorm. The pretty, old dorm is on one side and the park with the tree and pond are on the other side of us. I can't stop thinking "but…the tree…"
Matt asks if I remember what happened at the lamppost. I'm completely confused, both from passing up the tree and because I had no clue what happened at this spot. I said I didn't remember anything specific.
"That's because it's happening right now," he said. (Que the Awws….)
Then he got down on one knee and proposed. Since we're celebrating our fifth anniversary you can guess what I said.
So that's our love story. I'll talk about planning the wedding during our short, five-month engagement another time.
Thank you to Matt for being my sweet husband all these years. He can be goofy and keeps my laughing, but he's also one of the kindest, most caring and most genuine people I know. Looking forward to making more memories together!