I love Disney movies and have created several boards that are based on Disney stories (mostly about the princesses). I'm sharing these themed wedding boards with you in a series. Check back each week for another themed board.
Please note that these "Themed Weddings" are not intended to be a Disney princess wedding. If we go too literal this will look like a little girl's birthday party. The intent is to give you ideas based on the setting, feel, season and/or colors of certain movies. The photos are from Pinterest and lead directly to their pin.
---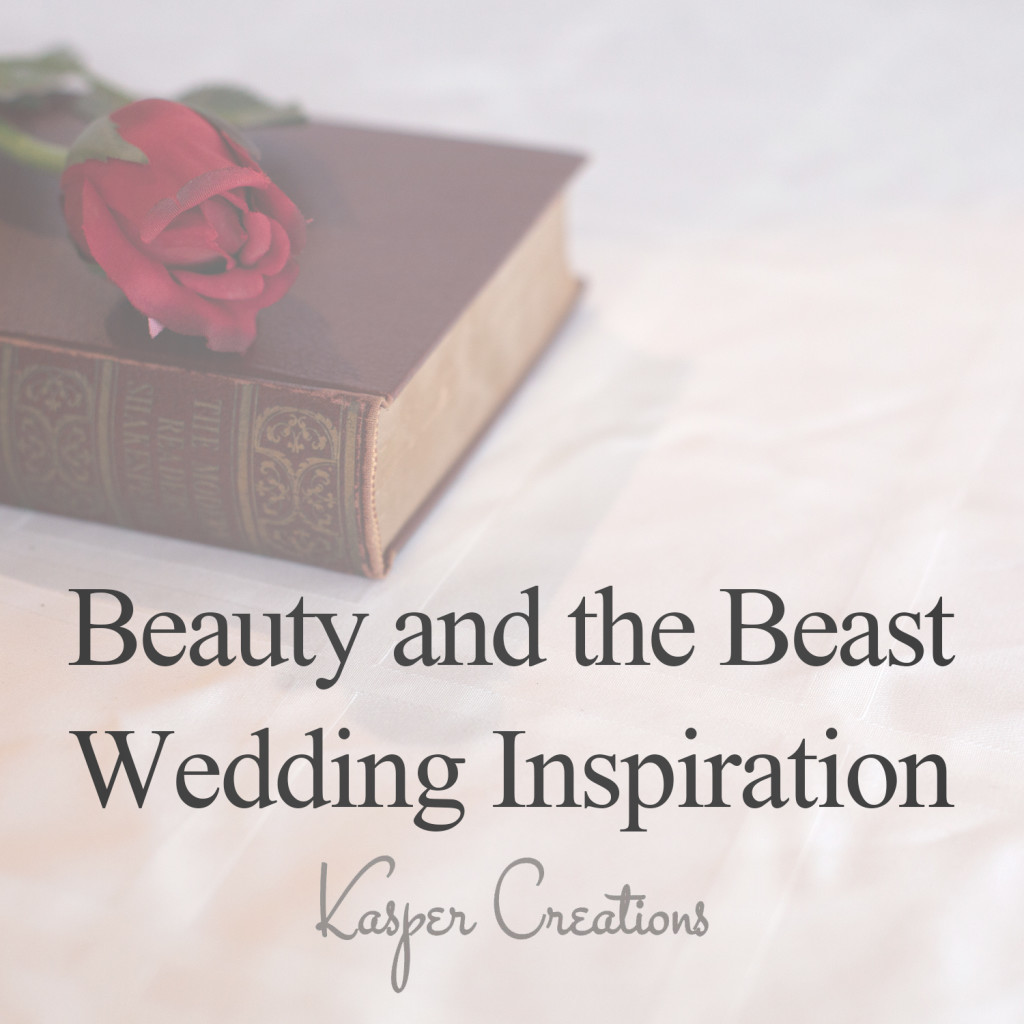 This week's wedding is inspired by Disney's movie Beauty and the Beast. This has been one of my favorite movies since I was a little girl. You'd think that would make it easy to envision, but it was surprisingly difficult. In the end, I'm pretty excited about it.
This theme has a French feel, old world styles and is full of opulence. There are lots of roses and candles. I hope you enjoy this Beauty and the Beast themed wedding.
Theme Setting: Opulent French in an old library, ballroom or columned gazebo
Color Scheme: Dusty Rose, Light Blue, Cream, Gold
For starters, we have this beautiful invitation set. Don't you love the filigree?
While some people are using personalized stamps, this rose imprinted seal is a great and
unique way to personalize wedding invitations.
While tucks and swept up gathers are beautiful in the storybooks and films, it's a little
dated for modern wedding dress styles. Here's an updated version of Belle's ballroom gown.
Love this Connie Simonetti dress, but click here to see a bridal shoot with Alfred Angelo's "Belle" dress.
There are many over-the-top hairstyles to choose from, but I personally LOVE
this over-the-shoulder look.
These shoes are a beautiful example of gold filigree in the little details of the wedding day.
You could pick some classic gold earrings…or you could add some sparkle with gem stones
like white topaz, white and yellow diamonds, or citrine.
Check out this elegant bridesmaid dress in gold. Look at the beautiful texture in the
fabric and the classic style. Swoon.
Just because the bride gets an updated style, doesn't mean the flower girl can't dress
like her favorite storybook characters. Don't you love this little princess?
While the invitations were gorgeous, guests will be equally in awe of stunning programs. The elegant
gold satin bow and script make these programs perfectly complementary to the day.
There are multiple setting options for this theme. One idea is an old library.
You could also find a gazebo with beautiful columns. The draping and chandeliers
really add to the extravagant feel.
You can also find a ballroom or church with beautiful stained glass windows.
Ordinarily I'd suggest finding a ballroom setting for a Beauty and the Beast stylized reception.
However, this exquisite reception would look great indoors as well as in a garden area.
Candelabras are a must, but you don't have to use traditional metals.
This glass design brings a modern twist to a traditional feature.
Add the traditional french feeling with gold flatware, chargers and china edged in gold.
The extra detail work in each piece really makes a significant impact on the table setting.
If you want to add a little whimsy in with the elegance, try using books for table numbers.
There are many elegant escort card ideas, but this one really stood out.
Guest can take home this metal etched name plate.
I looked at many cake ideas and there are so many beautiful (and tasty looking) cakes with
gold leaf and gum paste roses. For something different, look at this blush cake.
It is gorgeous piped details and a lovely roses in the same blush color.
The groom's cake is an opportunity to have a little fun. If you want to somehow add books
into the wedding, this is a great place to do it.
If you want to have a dessert bar, try something like these detailed rose cupcakes!
You can also have a gelato bar. The scoops can be placed in the cone like a rose. Mmm…
The options for dessert bars and wedding favors are endless when considering a Beauty
and the Beast or French inspired concept. There are SO many tasty treats!
Just look at these cream and gold macaroons! My tummy's rumbling.
Here's a unique wedding favor idea. It's a little bottle with Dandelions. Make a wish!
Hope you enjoyed this Beauty and the Beast wedding theme board!
What venue setting and treats would you choose?
---
Katelyn is a certified wedding planner. She is available for consultations.
She will even meet with you on Skype to help you work through part of your wedding planning.
Click here for more information.