One thing we're passionate about is helping couples feel less stressed about the wedding planning process and wedding day so they can embrace their vows and their marriage — the whole reason why they're getting married! While we obviously do this with wedding coordination, you'd be surprised how much we end up doing the same things as photographers. I've pinned boutonnieres, fluffed dresses, corralled family for photos and calmed stressed wedding parties. These are all possible scenarios, but there are some things you can do while planning your wedding that will relieve stress later on.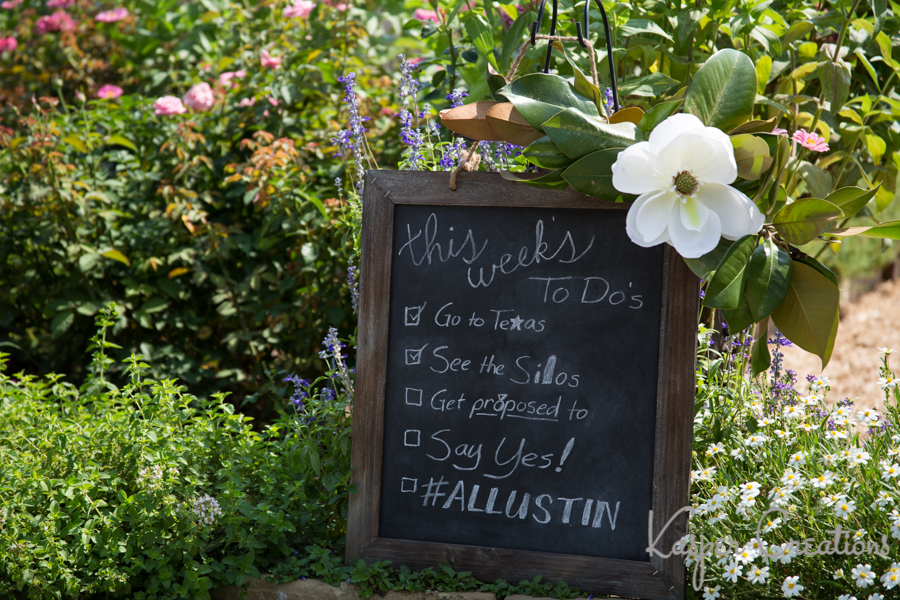 I'm so excited about a new project we're doing with Central Texas Engagements. Off and on this year, we'll be writing articles with wedding planning tips. And it all starts TODAY!!! Go to the link below to see why it's important to choose your "top three" important factors of the wedding.
Click here to read the article!
This is something my husband and I did, and we recommend it to everyone. It really helped us prioritize our budget to make sure we focused on the things that were most important to us.
On a side note: Can you believe how sweet this proposal sign is? Justin contacted us to help him propose to Alexandra at the Magnolia Silos. He knew exactly which chalkboard he wanted and what it should say. He even had a hashtag ready for them! His plan made coordinating and photographing the proposal picture perfect! Way to go Justin!